I know this month is supposed to be all about the laundry room, but I am in a bit of stand still until I get the room painted, so I have been filling my time with other fun projects around the house. And this project is too great not to share right away!
I think everyone who is anyone on Pinterest has seen and pinned this pin:
I love repurposing items in a new way and this genius mom used $3.99 IKEA spice-racks and made them into bookshelves. Seriously brilliant.
Behind the scenes, I have been working on a side-project of re-styling our family room shelving unit. It is filled with random knick-knacks and children's toys and other clutter that generally speaking does not represent us or the look we are going for. We had one whole shelf dedicated to children's books and it was seriously cramping my style.
We love to read while snuggled up on the couch, so I knew the books needed a new home in the room and after seeing the above pin, I was pretty sure the $3.99 spice rack was my answer.
I had been to IKEA several times searching for these allusive spice racks and kept coming up empty handed. (As one IKEA employee put it when I asked if they had any in stock, "Pinterest is killing us!") Anyway, a few weeks ago I had a banner trip to IKEA with my friend, Alicia. I scored all sorts of goodies that you will get to read about it future posts, but by far my greatest find was the spice racks. Alicia bought two, I bought four and I bought four more for a friend. They were piled up in our cart like Christmas presents under a tree, except without the dried out pine needles and lost bows.
Once home, I laid out all the pieces on a garbage bag in the garage to give them a few coats of spray paint.
(I used Rust-Oleum Paint + Primer in Gloss White.)
I am not an expert at spray painting (to say the least) and I learned the hard way that I needed to prop the pieces up in order to keep paint from leaking underneath and making splotches. Oops!
When it was time to paint the back side, I used folded up cardboard and rolled up aluminum foil to keep the wood pieces off the plastic.
Both sides got two coats of paint, plus one extra coat over the entire piece once it was assembled.
J&A "helped" me hang them on the wall in a corner of our family room, which basically means they tried to eat the screws and chased each other with a mallet. Fun times.
I love this new little corner of our family room. It is slowly turning into our learning corner with our
learning board
, table and chairs, and now our bookshelves.
Pretty great for only $20 and an hour of hands-on time.
What have been some of your favorite Pinterest inspired projects?
This post was featured on: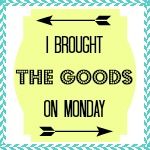 This post has been linked to: